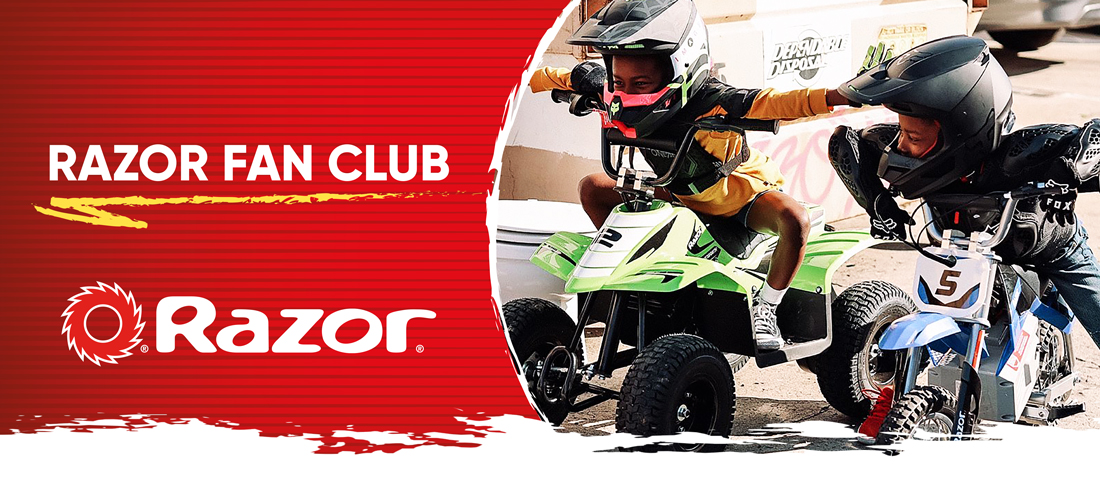 Fan Club

You won't want to miss the new "Razor Fan Club" contest from ToyPro! The new Razor Fan Club contest is designed to allow Razor fans to share their experiences with Razor products and win a fantastic prize, a GoPro camera.
To enter the contest, Razor fans must create a video showcasing their favorite Razor product in action. The video can feature any Razor product, grab your Razor scooter or ride-on and start filming!
Participants must then upload their videos on social media and fill out a participation form on Razor's website. ToyPro will review all the entries and select the winners based on the videos' creativity, originality, and entertainment value.
And don't worry, you don't need to be a professional filmmaker to enter. We're looking for authenticity and creativity, so feel free to let your personality shine through in your video.
The grand prize winner will receive a GoPro camera, which is perfect for capturing all your outdoor adventures, including your Razor rides.
The Razor Fan Club contest is a great opportunity for Razor fans to showcase their passion for the brand and share their experiences with the world. Whether you're a seasoned Razor rider or a newcomer to the Razor world, this contest is open to everyone. So, dust off your Razor scooter or bike hit the streets, and show us what you've got.
If you're looking for inspiration, check out some of the videos already submitted by other Razor fans on social media. You'll find some amazing stunts, cool tricks, and awesome rides that will get your creative juices flowing.  The Razor Fan Club contest is not just about winning prizes. It's also about celebrating the joy of riding and the freedom of movement that Razor products offer. So, grab your camera, hit the pavement, and join the Razor Fan Club today. You might just win a GoPro camera and become the envy of all your friends!
If you're a Razor fan, don't miss out on this opportunity to reveal your skills and win some fantastic prizes.