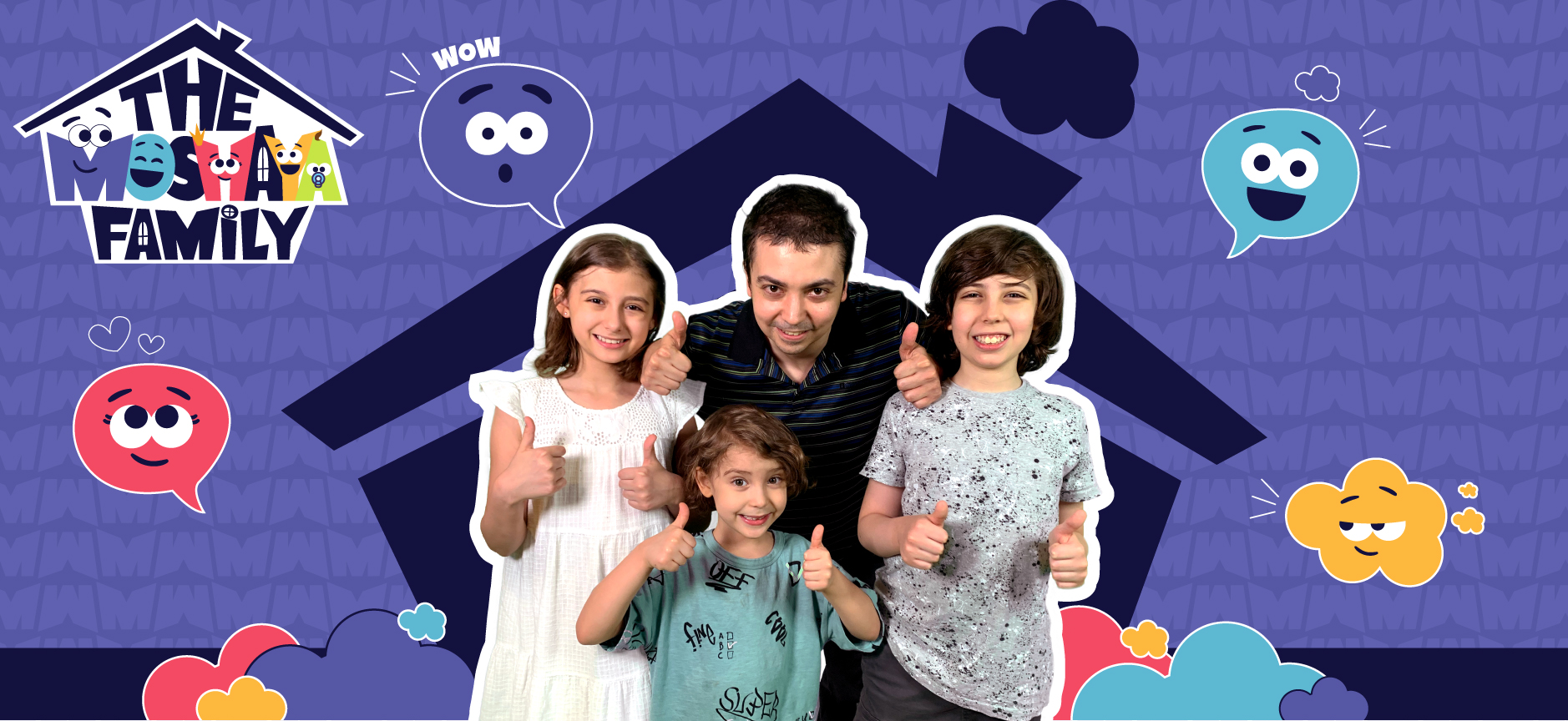 Moshaya Family Magical Toys
Haven't you heard of the Moshaya family??
Common it's 2022
Over 19 Million Subscribers, 11 billion views on YouTube, and over 1.8M followers on Instagram. The Moshaya Family are the most popular influencers in the region; Their content is typically videos pranks, funny sketches, and daily vlogs.
The secret to this success is their likability and similarity to their audience which helped them achieve milestones on YouTube and other social media platforms.
The Moshaya Family Animation on SpaceToon T.V!
Within a period of 6 weeks, the animation managed to reach astonishing numbers!
The animation created by SpaceToon TV, started early last year, and obtained huge exposure, with over 17M views so far on YouTube, while also streaming on SpaceToon T.V.
Talking about achievements right?
It's hard not to re-new the success made in the first season of the Moshaya Family animation series to another season.
The Second Season is streaming since late Feb 2022 with promising figures.
After the huge buzz that season one of the animation show created, season two was published shortly after in Feb 2022.
What's better than a famous fun family on YouTube and their magic toys?
Well, I guess nothing!
The Moshaya Family collaborated with ToyPro on a new product range; the family surprised their fans with incredible new magic tricks!
They are literally MAGICAL!
Tricks and pranks, which you can try on friends and family, having so much fun while enjoying this new experience!
Let's take a quick look at the Moshaya family magical items and tricks:
Moshaya Family – Pranks Box:
You will surprise your friends with tricks and pranks that they are not ready for!
The pranks box includes 9 magical items:
Disappearing Ink
Fright Cockroach Mint
Tongue Gross jokes
Prank Nail Hand
Teeth Prank
Fake Fried Egg With Cockroach
Water Gum
Water Camera
Spray Water Ring
Moshaya Family – Tricks Box:
Amazing tricks that will make your friends and family go crazy, bring out your inner magician with Moshaya's tricks box!
The tricks box includes 9 of the most fun items:
Ball and vase
Flash Dice Magic Trick
Indian Jumbo Stiff Robe
Link Rings
Magic Sliced Rope
Milk Cup Magic Trick
Spiked Coin Magic
Vanishing Card Deck
Wand to Flower Magic
Moshaya Family – Change Bag Magic Trick:
Don't forget to bring your magical tools with you to try out this amazing trick!
Moshaya Family – Color light-up thumb:
It may be the best trick to try, and show your friends that the light entered from one ear and went out the other!
Moshaya Family – Fart Horn:
Hide the horn and press the button to make your friends laugh and blush!
Moshaya Family – Flower Bag Magic Trick:
You will be able to get big flower boxes out of small bags to surprise your friends!
Moshaya Family – Silk through Mirror Magic Trick:
Make sure that your friends will not discover the button in the mirror, and surprise them!
Moshaya Family – Spin Bank:
It's the most fun way to save money, you can see how much money you saved through the transparent cover!
Moshaya Family – Surprise Potato Chip:
Surprise your friends who love adventures with the snake coming out when you open the potato chip box!
If you are, a prankster and you like to trick your friends and family with the most enjoyable toys, then I'm glad to say you are in the right place.